Apollo Strong Moving will load your household goods in a safe and efficient manner onto our trucks, transport, then unload your items accordingly at your destination. We offer different size moving packages. Please speak with our office with any questions you may have.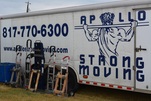 Apollo Strong Moving Equipment. 53ft, 48ft, 38ft, 35ft & 24ft Options. Apollo Strong Moving offers the largest moving trucks in the entire Dallas, Fort Worth area from an independent Moving company. Our 53ft Moving Van Lines Service is the largest moving truck you can get. Our 48ft truck has approximately 3,000 cu ft. of cargo space which is equivalent to two large box trucks. This is perfect for long distance moves. Our 38ft and 35ft trucks have approximately 1,950 cu ft. of cargo space which is up to 25% more capacity than a standard moving truck. Our 24ft is great for smaller moves, storages and hotshots.

---

Apollo Strong Local Moving Services. Full Service Local Moving. Serving Dallas, Fort Worth Texas and the surrounding Metroplex. All moves include furniture blankets, shrink wrap, disassembly, reassembly and power tools. Wardrobe and TV Moving Box available upon request. Movers will wrap your household goods as needed, load, transport and unload your belongings where you would like them located. Charged hourly, all inclusive, with a small trip charge. Site Survey's and Flat rate prices are available. Piano's and Safes are extra. Contracts are binding with no hidden fees.

---

Apollo Strong Moving Long Distance Services. Full Service Long Distance Moving to and from the entire Dallas, Fort Worth Area. Yes, we are properly licensed to move interstate. Utilize the space capacity of our 48ft moving truck or 53ft moving van on your large long distance move. Long distance moves are charged according to inventory and distance. In home site survey or virtual site survey options for moving quotes. Long Distance Moves are origin to destination straight shots with communication access to driver. Save money on your large long distance move. Contracts are binding with no hidden fees.

---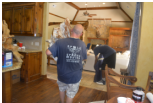 Apollo Strong Moving Crews. Our moving crews are experienced, trained and work for Apollo Strong Moving. We do not broker moves or sub contract with any other moving companies. Apollo Strong Moving is an independent company and operates on a first come, first serve basis. Please book early to ensure we are available for your desired move date.
---

Apollo Strong Moving Premium Protection. Premium Protection for your house and furniture is available. Not every move is the same. Premium protection may be warranted for some moves at the customer's discretion. Premium move protection includes floor runners for hard wood floors and carpet, door jam protection, stairwell padding, and additional padding for marble and glass as needed. Inquire with our office if you are interested in premium protection for your move.
---
| | |
| --- | --- |
| | Apollo Strong Moving Safe's & Gun Vaults. Need your safe, fire cabinet or gun vault moved? Apollo Strong Moving uses our Power Mate M-2B Stair Climbing Hand Truck for heavy items. Stairs and weight are no problem for the stair climbing hand truck. Move your heavy safe professionally with the right equipment for the job. |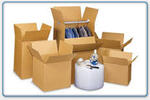 Apollo Strong Packing Services. Full Service Packing is available. Packing is charged hourly or by the job. A Site Survey may be necessary.
Apollo Strong Moving Storage. Short and long term moving storage is available and can be included in your total move price.

---
---